Hilary's Blog
| | |
| --- | --- |
| | He lost his mojo |
Posted by Hilary on 2/25/2014 12:15:00 PM.
Arthur Chu is a 5 time Jeopardy winner and so far his winnings total more than $120,000. Last night, Arthur says his victory was far from easy. He described himself as "drenched in sweat" and said he lost his buzzer mojo. But I guess it all worked out for him in the end. Now he's in the Jeopardy Tournament of Champions!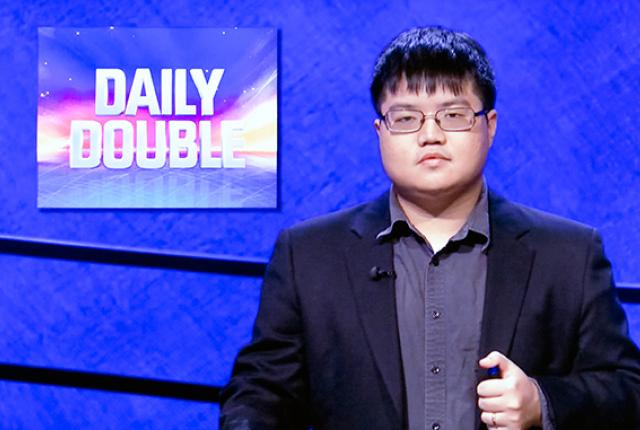 Photo courtesy of Jeopardy
---
| | |
| --- | --- |
| | Blake Shelton trying to be romantic |
Posted by Hilary on 2/18/2014 11:02:00 AM.
Poor Blake...he was just trying to do a little something nice for Miranda
---
| | |
| --- | --- |
| | Yet another addiction |
Posted by Hilary on 2/11/2014 5:35:00 AM.
Well, since the beautiful mind behind Flappy Bird has decided to remove it from the Apple and Android markets, some clever genius came up with another alternative. Flappy Doge?! (and I have no idea why it has an "e" on the end). Flappy Doge is just about as addicting as Flappy Bird, although I don't think it's available on smartphones yet. You can play it online though! And let's face it...watching that fat little pup flap around is pretty entertaining.
---
| | |
| --- | --- |
| | Aren't games supposed to be fun? |
Posted by Hilary on 2/6/2014 10:13:00 AM.
Image courtesy of i
gn.com
I've recently been introduced to an app called Flappy Bird, that has quickly become the bane of my existence. Your goal in the game is to get a little bird to flap his wings as hard as he can to get through these pipes that look like they popped out of Super Mario Bros. What they don't tell you, however, is that this game is nearly impossible! As soon as the bird hits one of the pipes, he divebombs and your game is over. If you're able to get past level 2, please share your strategies with me!
---
| | |
| --- | --- |
| | Born to be Wild! |
Posted by Hilary on 9/26/2013 9:49:00 AM.
One would imagine that if you were an animal, it would probably be pretty confusing to see someone wearing an animal print item of clothing! Be it cheetah, zebra, even giraffe...animal prints all over the place these days, EXCEPT at Chessington World of Adventures in England! In fact, the theme park has banned guests from entering if they're wearing any form of animal print. They've even hired bouncers to enforce these rules. Pretty crazy, but it makes sense!
---
Previous Entry
Next Entry