Hilary's Blog
| | |
| --- | --- |
| | Talk about awkward! |
Posted by Hilary on 4/9/2014 3:51:00 PM.
When George Strait was named Entertainer of the Year at the ACMs, a slew of country artists congratulated him with pats on the back and handshakes. Miranda Lambert went in for a high five, and this is what happened...
---
| | |
| --- | --- |
| | Luke's bringing sexy back |
Posted by Hilary on 3/13/2014 4:05:00 PM.
Luke Bryan brought his annual spring break show to Panama City Beach this week, and this photo was one that surfaced. Question is...it's hot outside, Luke! Why do you have your shirt on?
---
| | |
| --- | --- |
| | He lost his mojo |
Posted by Hilary on 2/25/2014 12:15:00 PM.
Arthur Chu is a 5 time Jeopardy winner and so far his winnings total more than $120,000. Last night, Arthur says his victory was far from easy. He described himself as "drenched in sweat" and said he lost his buzzer mojo. But I guess it all worked out for him in the end. Now he's in the Jeopardy Tournament of Champions!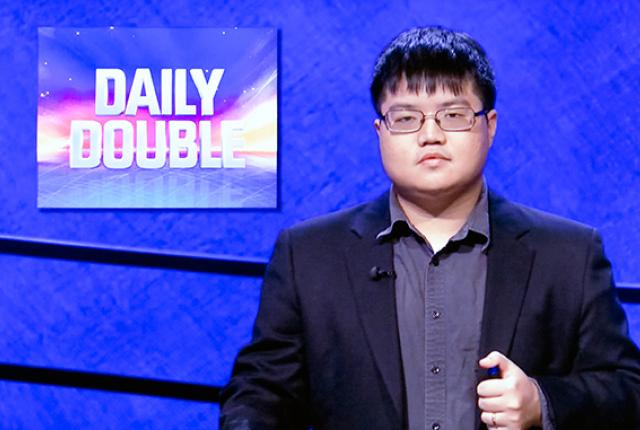 Photo courtesy of Jeopardy
---
| | |
| --- | --- |
| | Blake Shelton trying to be romantic |
Posted by Hilary on 2/18/2014 11:02:00 AM.
Poor Blake...he was just trying to do a little something nice for Miranda
---
| | |
| --- | --- |
| | Yet another addiction |
Posted by Hilary on 2/11/2014 5:35:00 AM.
Well, since the beautiful mind behind Flappy Bird has decided to remove it from the Apple and Android markets, some clever genius came up with another alternative. Flappy Doge?! (and I have no idea why it has an "e" on the end). Flappy Doge is just about as addicting as Flappy Bird, although I don't think it's available on smartphones yet. You can play it online though! And let's face it...watching that fat little pup flap around is pretty entertaining.
---
Next Entry